Increasingly, theme parks in the United Kingdom have been expanding their offering outside of the main season. From Christmas events to February half term, it's now commonplace to find many parks opening in one form or another during the closed season, often with a heavily reduced ride offering. Enter Brick Week at LEGOLAND Windsor Resort. Offering guests over 30 rides and attractions, alongside exclusive building activities and entertainment, it's safe to say that this is one of the strongest offerings of any UK park for the February half term. With such an impressive lineup, I, Claire, couldn't resist a visit to the event. But, let's be honest they probably could just have opened Flight of the Sky Lion and I would have been rushing back to be reunited with my favourite winged mythical lion.
As I drove along one of my favourite park entrances in the country – the LEGO 'Welcome' has never yet failed to make me smile – on my way to the car park, I spotted something that wasn't quite as welcome. A 'Park Sold Out!' sign. Oh boy, this was going to be a busy day! It's no surprise really. I was visiting on Saturday 18th February which thanks, I believe, to the timing of Valentine's Day happened to be the first day of the year that the Gold Merlin Annual Pass was valid – also my legacy Premium Pass thanks to the recent change to its conditions! Combine that with a Saturday, half term and a mild February day and it was, of course, busy. Despite this, park entry was quick and efficient – just have your pre-book to hand, passholders – and in no time at all, I was back in The Beginning taking in those stunning views over Windsor and London, but there was something even more beautiful right in front of the view…
Taking pride of place at the top of the line-up, and with his own adjacent sign, was the opportunity to build your own Bitsandbobs! For me, as a big fan of the icon that is Bitsandbobs, this was huge! Sure, it was great to see all the other activities available throughout the day, but I knew where I'd be heading first.
Thankfully, the free 'Build and Take' experience – yes, you get to take Bobs home – is located within Rebuild the World, just a short walk down toward Land of the Vikings. With a 10 am park open, by 10:03 we were sat at a table, instructions loaded on our phones ready to build our very own Bitsandbobs. The hosts were very welcoming to guests of all ages, and kits were bagged and ready in a stack of drawers, for anyone to come and grab. Build instructions were via a QR code on the wall, perhaps to encourage you to stay and build, and were presented in the classic LEGO format.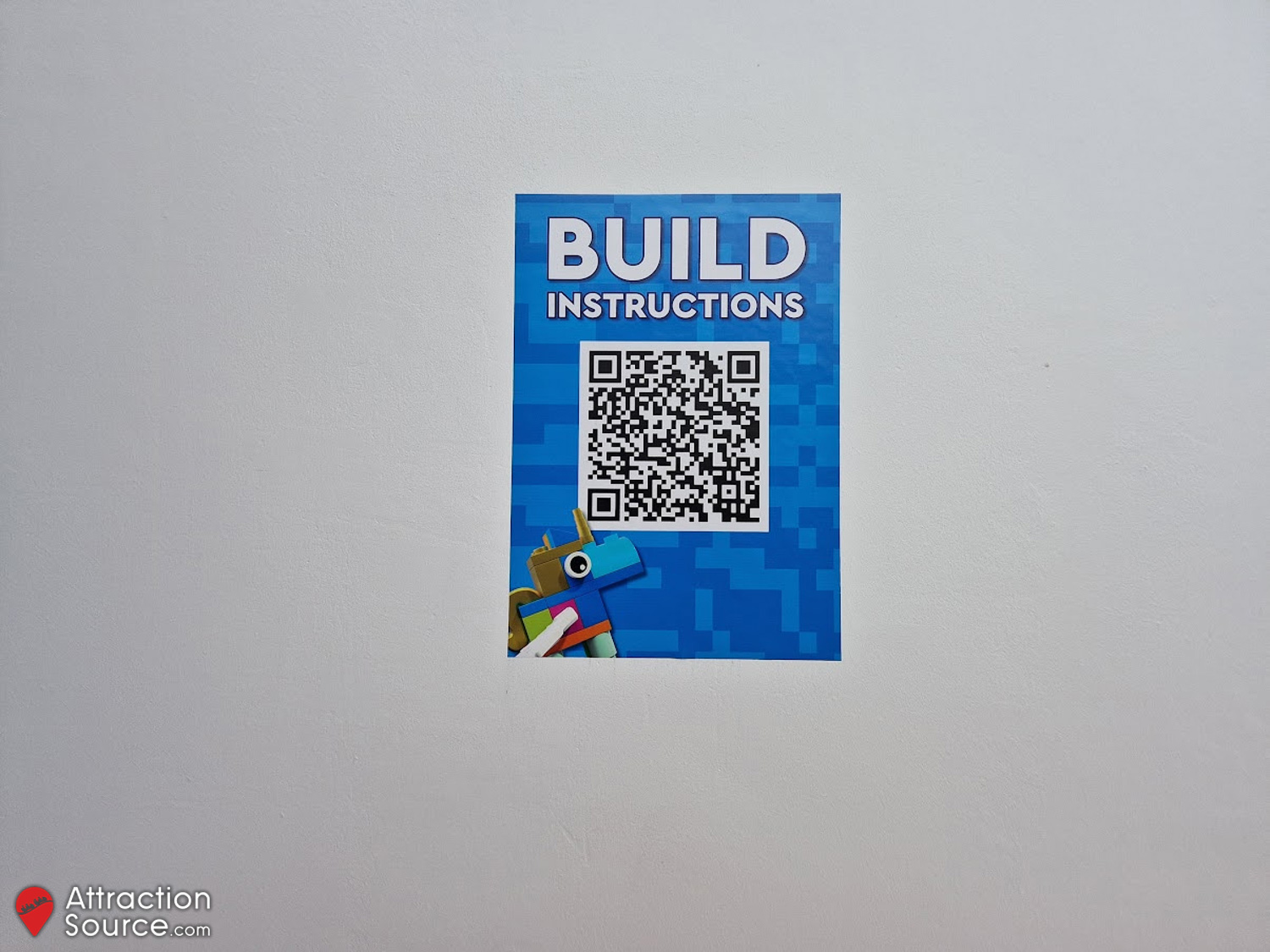 The Bitsandbobs build is a returning attraction from Brick Week 2022, but when I visited on that occasion, I found it actually very difficult to obtain my Bobs. We ended up having to spend a lot of time lurking in Mythica, talking to various members of staff before eventually, we found someone who went backstage and grabbed us some, only later to find half the bricks missing. So, it was great to see the opportunity refined and made so much more accessible this year. It was worth the trip alone just to finally have my own Bitsandbobs.
Bobs in hand, it was time to use the rest of the first hour of park operations to try and get some rides in. For the previous two seasons, I've always avoided Mythica at park-open. Without fail, the crowds flock straight to the park's newest land, filling the queue lines almost immediately. I wasn't sure if this would still be the case. Would the shine finally have started to fade around LEGO Mythica? The answer? No. No, it has not. At 10:07, every ride in the park was posting a 5-minute wait except two: Flight of the Sky Lion (45 minutes) and Fire & Ice Freefall (25 minutes). So, it looked like I'd be keeping to my 2021/2022 routine for another season and heading down towards Knight's Kingdom and the park's former headliner, The Dragon.
There are few rides in the country that make me more sentimental than The Dragon. This ride is a thread woven tightly through my childhood and adolescence. But even putting nostalgia aside, I think it still stands proud as one of the best all-rounder attractions we have. Its dark ride section is legitimately one of my favourite dark rides in the UK, with smells and quirky little details that just make me feel joy every time I ride, and of course, it's followed by a decent little family coaster – albeit one with absolutely no theming. A ride that I'll continue to make my first stop on every LEGOLAND visit for a long, long time.
From an attraction I ride every time, to one I'd yet to experience, it was finally time for me to make my first journey into The Magical Forest. I had a little bit of a hectic season last year, and sadly just couldn't find the time to come down and check out the park's most recent attraction. But finally, the time had come.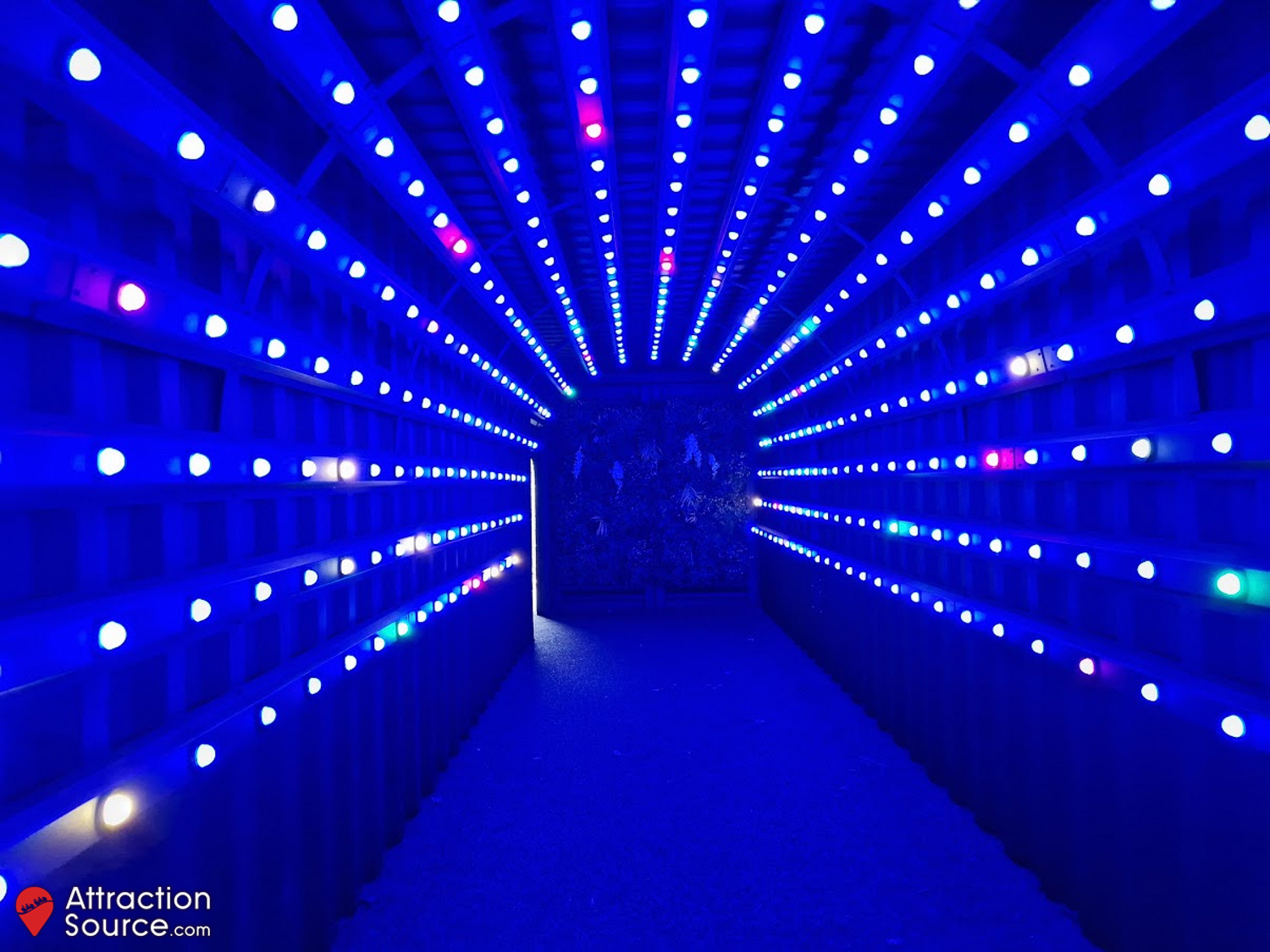 Stepping through the light portal into the forest, I did feel strangely as though I were in Black Mirror Labyrinth over at Thorpe Park, but it still made for a suitably dramatic entrance into the magic. As soon as we were through and I saw the first creature, I knew I was going to enjoy this attraction. It was, of course, none other than a life-size Bitsandbobs!
Perching proudly on a rock amongst some greenery and a themed backdrop, it was fantastic to see Bitsandbobs find a permanent home in Mythica as a figure. There was no one else I would rather have been welcomed to this very special forest by. Moving on, we passed through the forest, past all manner of creatures. Snails with duck heads, fly traps, blue salamanders… there were so many LEGO figures! The most impressive part of the walk-through was undoubtedly the volcano that was home to the Fire Crabs and Dragons, which utilised light and steam to create a really stunning effect that I'd just love to see at night. Just be careful if you're trying to take a photo of yourself with it, those rocks are very wet and you might end up very soggy! Speaking from experience.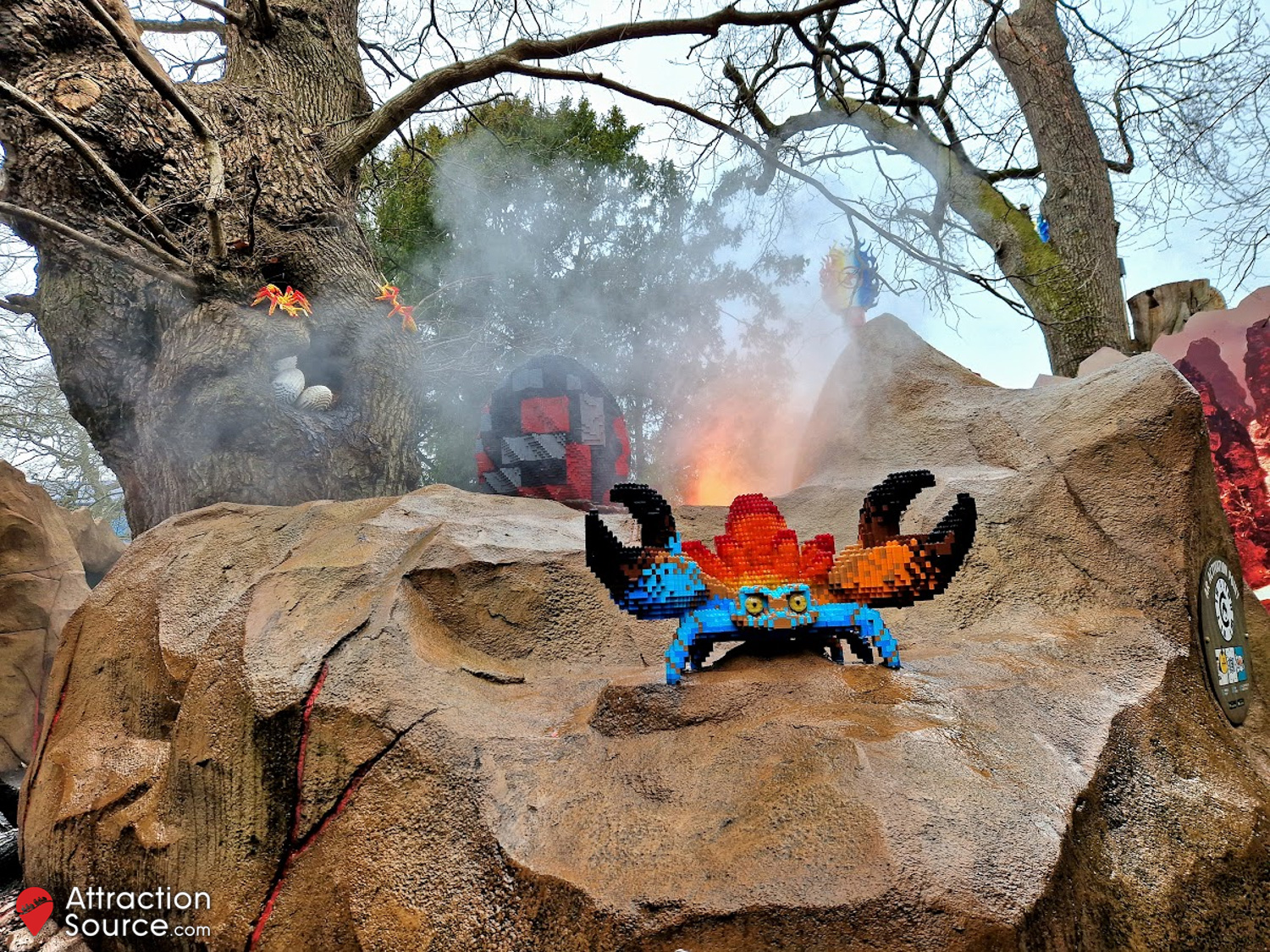 Overall, I was definitely more impressed with The Magical Forest than I expected! Sure, it's just a little walk-through but it's so nice to have a cute little attraction that you can experience at your leisure, absolutely packed with the sort of whimsical LEGO creations that the park is known for! A great little expansion to the beautiful world of Mythica.
Two of my favourite snacks in UK theme parks can be found at LEGOLAND: Mythica doughnuts and the LEGO Minifigure gingerbread man. Given that we were already in Mythica, it made sense to head to Beastly Bites for a doughnut and coffee. The app listed the snack stand as opening at 11:30, but despite this time having passed there was no sign of activity. This has been somewhat of a recurring theme in my visits to LEGOLAND. I always, always visit Beastly Bites, but only with perhaps a 50% success rate. It's such a shame when their doughnuts are that good! So, instead, we made the perhaps somewhat foolish decision to trek all the way back to The Beginning, and The LEGOLAND Coffee Co, in hopes of snagging my other beloved themed snack. Of course, it was not to be. There was no sign of the gingerbread Minifigure, though just as I was beginning to mourn, I noticed that it remains listed on the menu, so maybe they're awaiting a delivery? I hope so! Instead, I settled for a millionaire's shortbread which was a very poor choice. I'm so picky with shortbread, and this stuff had never seen a block of butter in its life. A no from me.
Thankfully, our trip back to the park entrance wasn't in vain, as it also serves as one of the character meeting points throughout the day. Listed on the app as just 'Meet LEGO Friends', there's no indication of whom you might meet – personally I was hoping for one of the bricks – but whilst we were there we had the opportunity to meet Emmett from The LEGO Movie! When he wasn't meeting, we also watched as the character took the opportunity to hide behind a pillar and jump out at unsuspecting guests. A wonderful, ridiculous moment.
Freshly caffeinated, we wandered back down through the park towards another of my favourite rides in the UK: LEGO City Deep Sea Adventure. In my opinion, this fusion between dark ride and aquarium can stand its own against any theme park in the world. I still get excited every time I walk into the station and see the massive submarines, already submerged and waiting for me to board! We waited a little longer than the posted 15-minute wait time for this, though it became clear why this might be when we boarded – we were given an entire submarine to ourselves! It was like a flashback to 2020. I'm not sure if this was standard practice throughout the day, but it's safe to say we made the most of the opportunity to spread out and check out the view from all of the different windows – and what a view! The tanks seemed to be more overflowing with life than ever before, with more sharks, rays and fish than you could shake a stick at. Everywhere we looked there were beautiful creatures, even the LEGO creatures were looking fresher than I remembered. I could have ridden this for hours.
Speaking of refreshes, the lighthouse… well, it's not so much getting a refresh as it's just completely vanished. With just a month until the main season begins at the park, it's a little sad, and concerning, to see the harbour completely empty. The lighthouse's iconic show 'Return to Skeleton Bay' is still listed on the website, although it's page does state 'Every day until Sunday 4th September', a 2022 date. Could we be seeing a like-for-like replacement of the lighthouse? I really, really hope so. Without the entertainment in this area, the park definitely felt like it was missing something. In fact, when we walked over to Knight's Kingdom to 'Watch a Live Show' as suggested by the information boards at the entrance, the show turned out to be just a meet and greet with The Dragon and a knight. Not that I'm complaining! I was overjoyed to meet an iconic park-specific character – they even handed me a sword for the photo!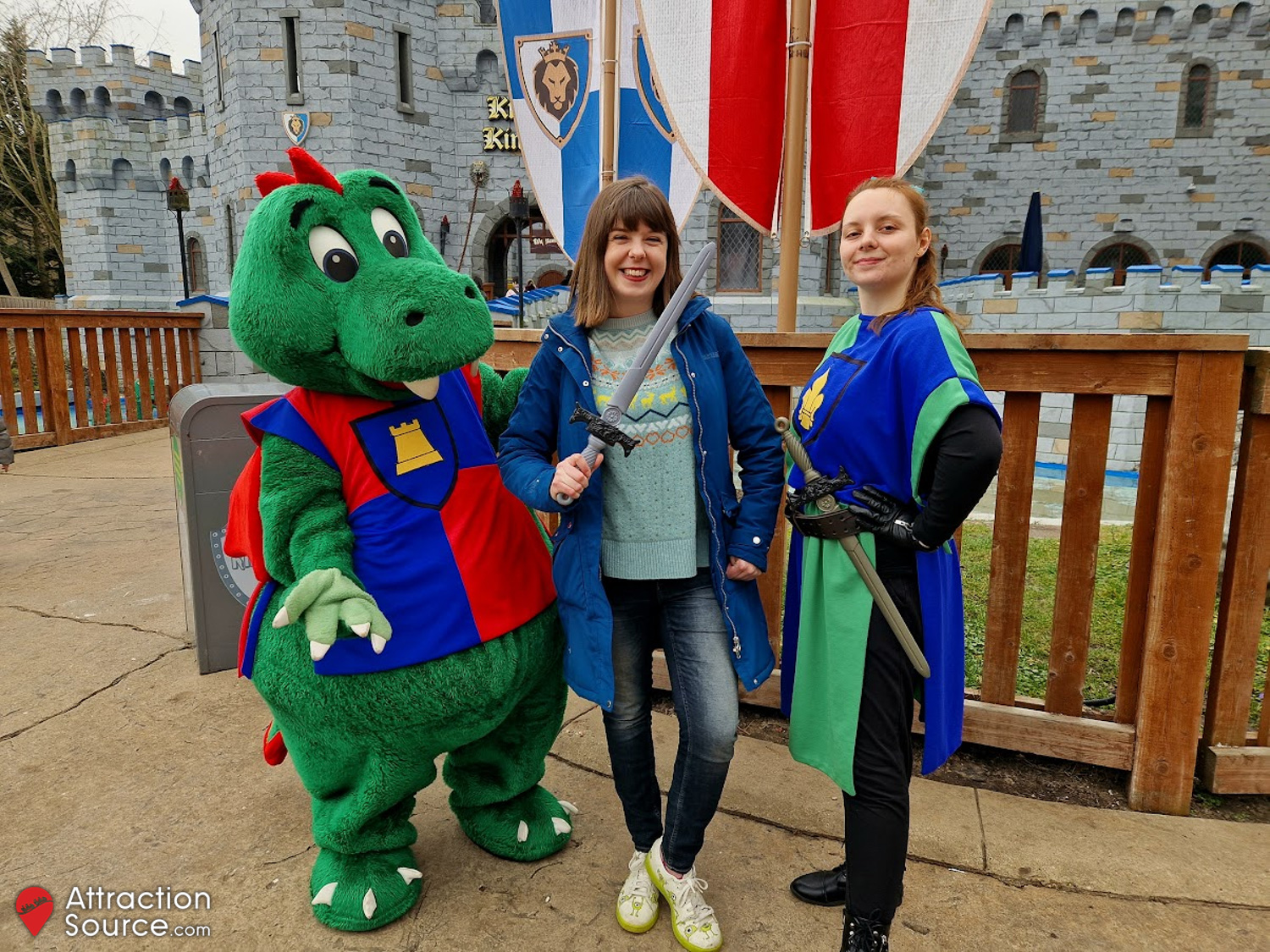 By this point, it was definitely time for lunch. A selection of dining locations was listed as open for Brick Week, although to be fair as we walked around it did seem like the majority of stands were open which was impressive, including the Skyline Bar at the LEGOLAND Hotel (not to be confused with the one at Disney's Hotel New York The Art of Marvel). With none of our group ever having stayed at the hotel, it seemed like a great opportunity to check out what was on offer. At least it was until we were turned away at the door, with the wait times said to be simply 'too long'. Alas! Instead, we tried somewhere else I'd never been before, The Hungry Troll. In fact, I'd never even stepped foot inside Mythica's restaurant before this point and was quite taken aback by how small it is. We didn't stand a chance of eating indoors. But still, we were hungry, so order food we did. I opted for the only vegetarian choice, the kid's Quorn sausage meal (£7.70). The portion was very decent for a kid's meal, but I don't think there will ever be a way of presenting a single Quorn sausage that doesn't look a little bit sad.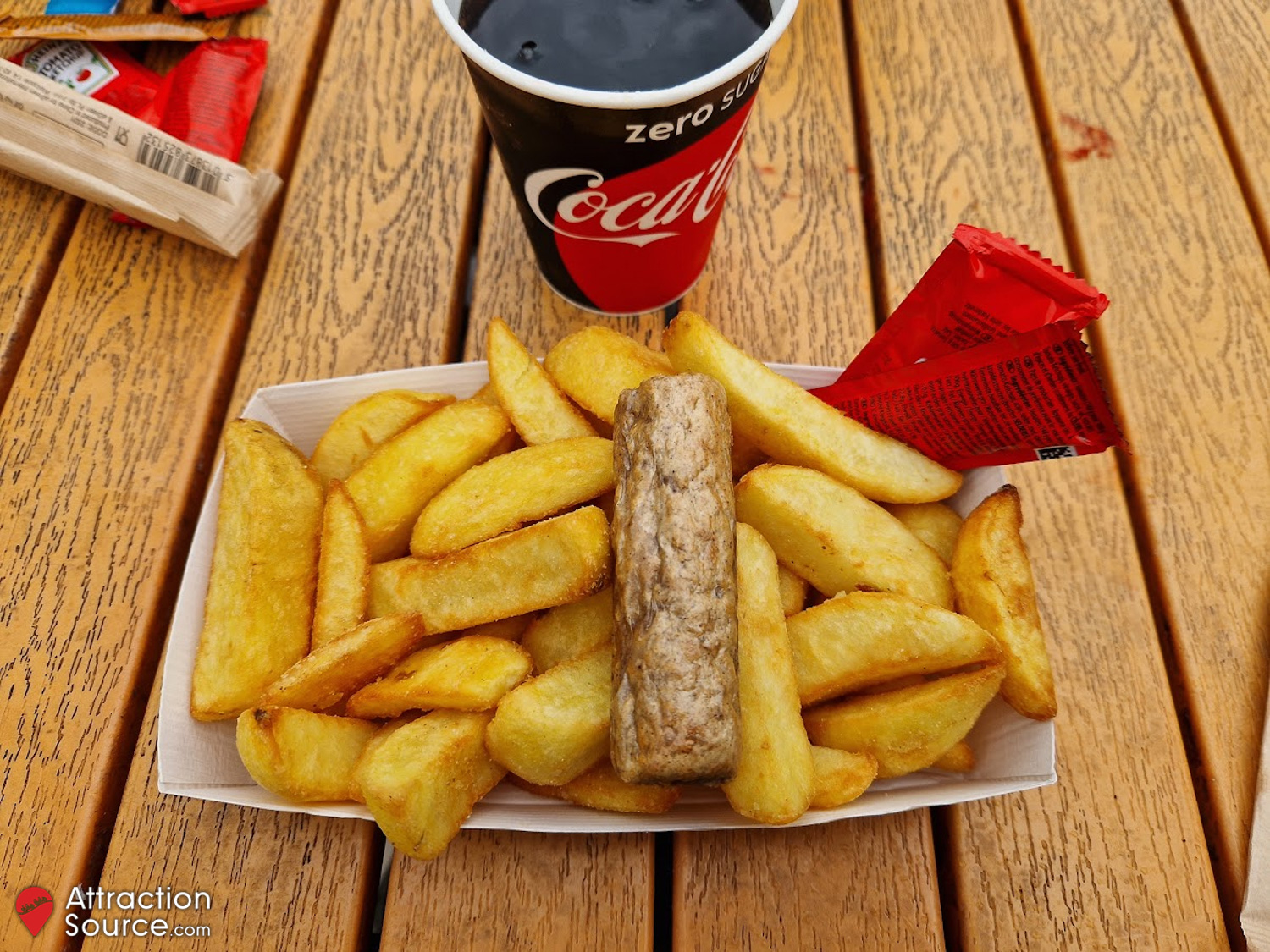 Not listed on the menu, but available for £4.25 was an absolutely enormous portion of chips which, ordered by a friend, easily could have been lunch between the two of us! The chips themselves were chunky and well-cooked but had a very strange flavour to them that we just couldn't pin down. Almost like a fried egg! It also started raining whilst we ate our lunch, and with the tiny indoor seating area fully occupied, it was more than a little sad eating our lunch out in the rain.
Fed and watered, I was just about ready to take on the queue line for Flight of the Sky Lion. Without a doubt, one of the greatest, if not the greatest, dark ride in the country, Flight of the Sky Lion unfortunately also has one of the worst queue lines. A single dark cattle pen, in which you typically spend an hour waiting through lengthy periods of non-movement as the ride is batched – argh! But, it's worth it in the end, so we hopped in line with a 50-minute posted wait. Shortly after joining, with a few more people behind us, an announcement was made stating that the approximate waiting time for those at the back was 60 minutes. To be expected, and not a problem. Sadly, it was a seemingly endless 90-minute wait until we finally reached the pre-show. A whole 40 minutes more than posted. On the bright side, I was impressed with the system they were running – frequently announced – for guests who needed the bathroom. Simply alert a staff member, and you'll be able to re-enter through the Reserve and Ride entrance, joining your family when they reach the front. This is a great solution to avoid guest frustration with apparent queue jumpers, and also takes a lot of stress away from families with kids prone to needing to nip out. Even though we waited a very long time for our ride, I'm glad we did. After a few disappointing rides last season which were a little light on effects, my Brick Week ride felt like I was riding it on opening day all over again. The water mist really does make all the difference to the immersion, and I felt myself becoming emotional in a way the ride hasn't made me since those opening day rides. It's still smelling just as great as ever too! Petition for a Flight of the Sky Lion scented candle range.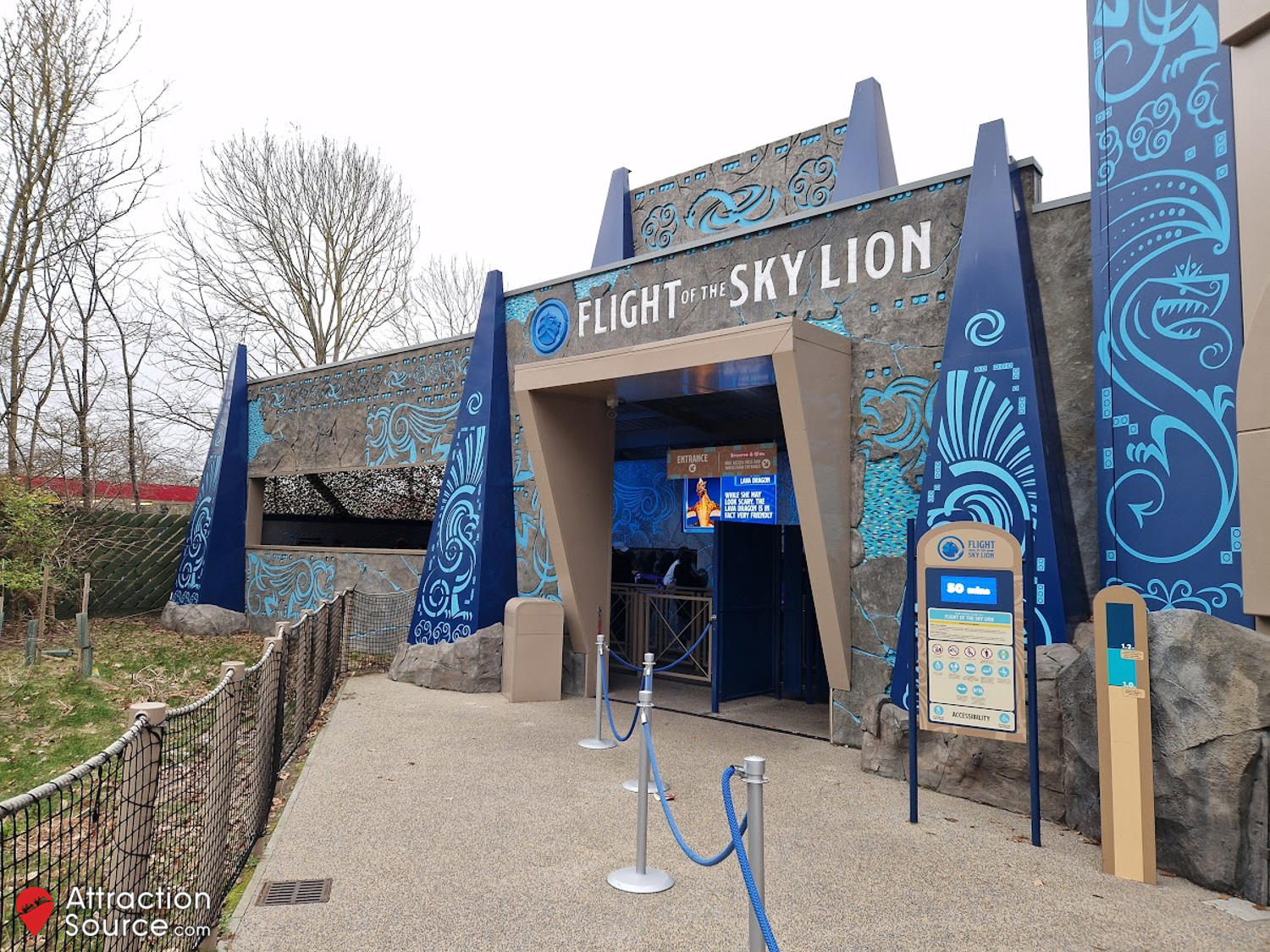 With our slightly longer-than-planned Flight of the Sky Lion Experience eating up a large chunk of the afternoon, we didn't have too much time left in the day. So we decided to wrap things up with a wander through DUPLO Valley, to see if there was much sign of movement in the area soon to house a pair of duelling family shuttle rollercoasters. Right now, as to be expected, the site is mostly just dirt with some of the fences from the old Raft Racers attraction still in situ, even if the ride system itself is long gone. But it's very exciting to gaze out over DUPLO Dino Coaster and think how very different that landscape will look in a year or two!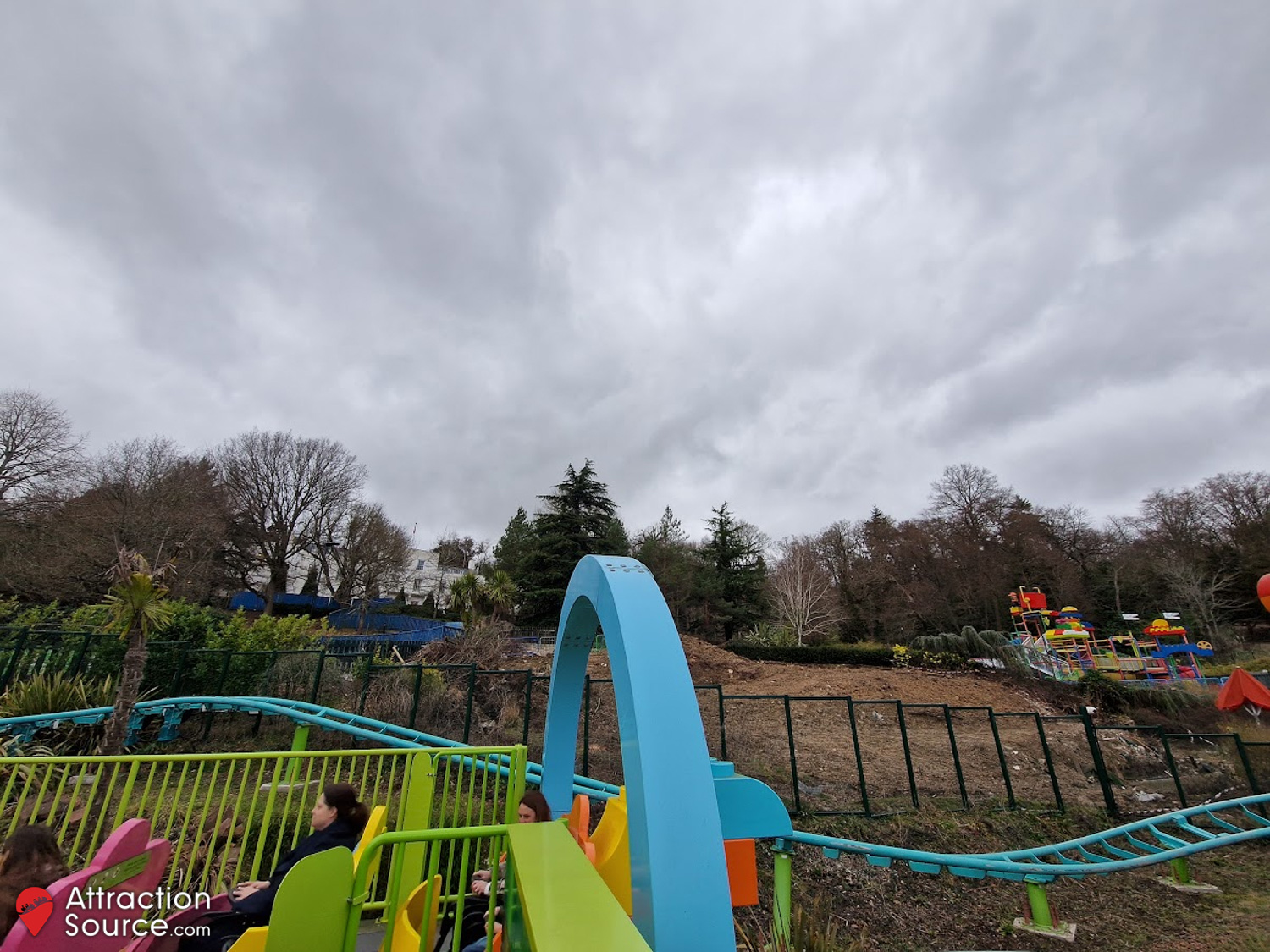 One attraction I was really hoping would be open was Sky Rider. Down for a large chunk of the 2022 season, it's still not known – at least not by me – when we will finally be able to enjoy Miniland from the sky once more. I had been fearful that perhaps we would be waving goodbye, but the presence of the ride vehicles on the track gives me hope. Maybe in the main season? I hope so!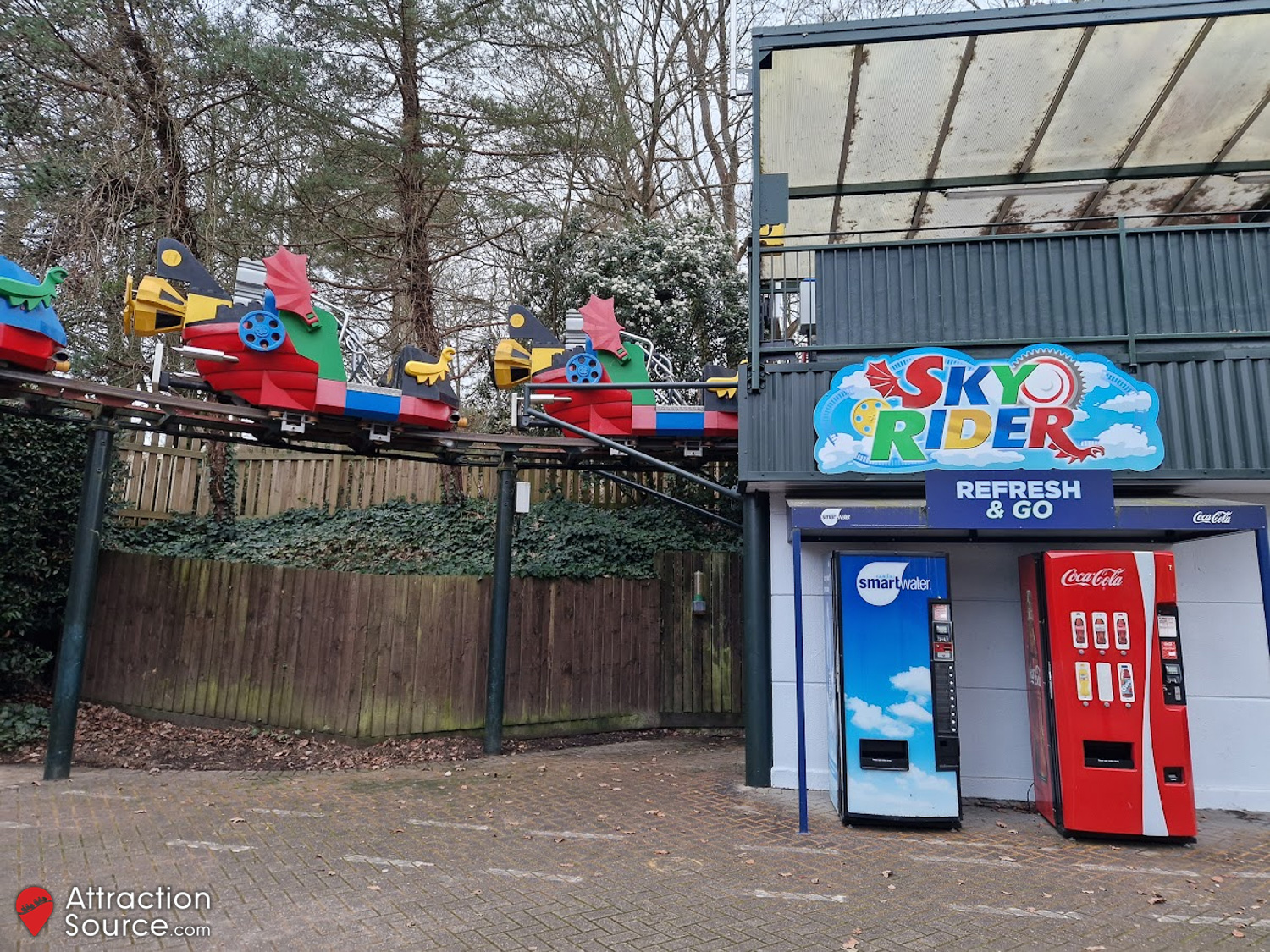 Next door, the former LEGO Reef attraction is no more, with Ferrari Build & Race getting ready to open this summer. The exterior of the attraction is already fully refurbished and ready for action, and I can't wait to see what's inside! Looking at the version of the attraction that opened over in LEGOLAND California last year, it looks to be a definite improvement on the former Reef!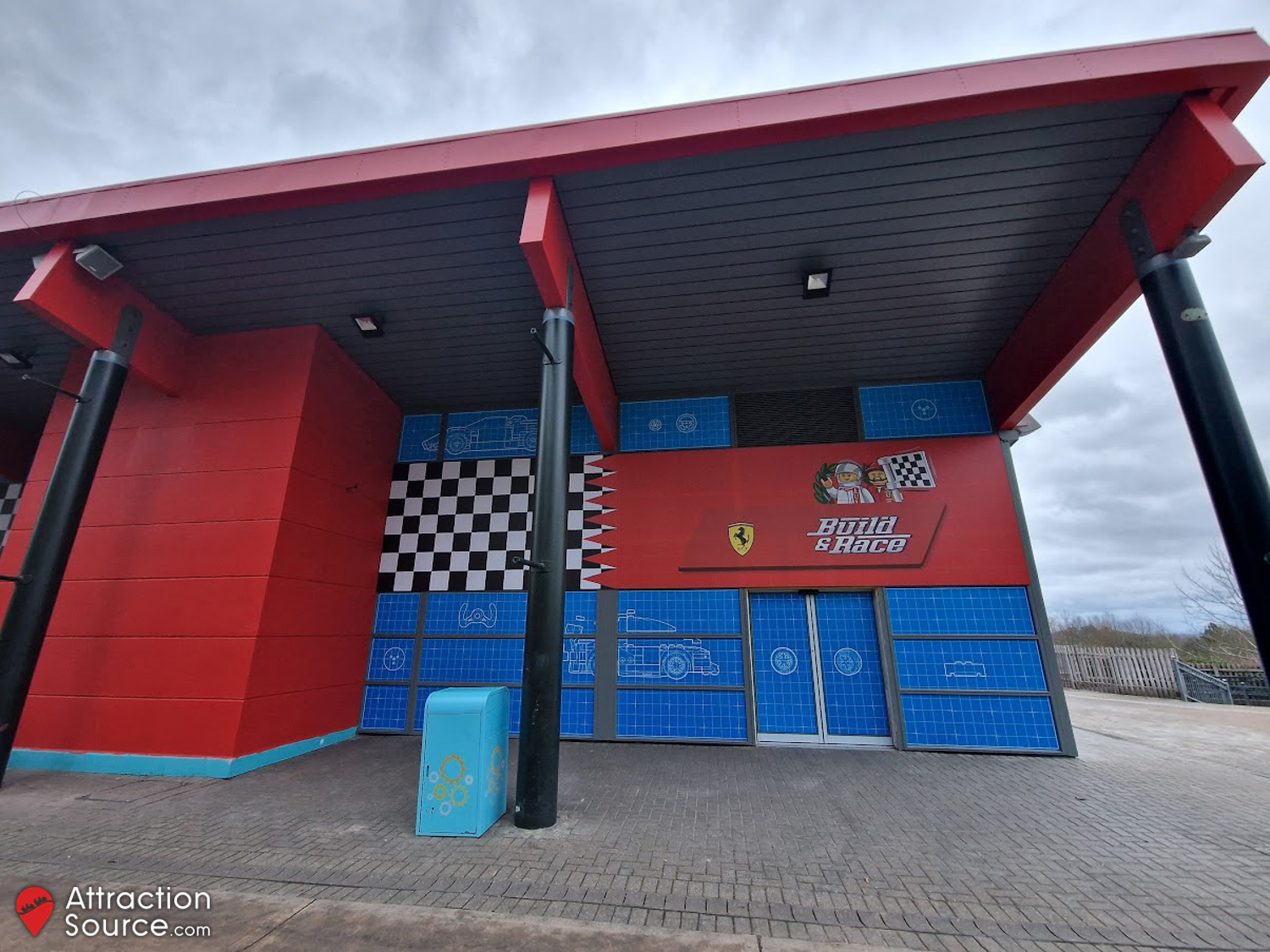 Brick Week was a very solid event for the February half term. Whilst many parks offer just a few attractions, LEGOLAND has most of the headliners open for guests' enjoyment. Whilst the park definitely did feel like something was missing with the absence of the water rides and the headline entertainment, I still had a great time at the event riding some of my favourite attractions and meeting characters. There were various additional happenings that I didn't experience, such as the opportunity to build with LEGO at The Brick and win an exclusive POP Badge and shows at both the DUPLO Valley Theatre and Miniland Stage, which I'm sure would round off a day well for families. For me, the overall feeling was like a regular busy weekend at LEGOLAND but with just a little bit less. Which for me as a passholder, out of season, is great. I'm just happy to be visiting the park! But with pre-purchased admission costing £43 on the day of our visit, maybe there should be a little bit more. But hey, parking is free at least! Plus, you get your own Bitsandbobs to take away. Priceless.
Brick Week runs at LEGOLAND Windsor Resort until Sunday 5th March. Are you planning a visit? Let us know via our social media channels.