It may still be a short while before Drayton Manor Resort transforms into 'The Haunted Manor' (28th – 31st October), but the spooky festivities are well underway at the resort with 'Spooky Family Fun' running from 5th October through until 5th November! The event features an almost completely altered line-up from 2022's Halloween event, with a new show and multiple new activities for the whole family. We couldn't resist checking out everything this event has to offer, so join me, team member Claire, as I explore the many treats available this season at Drayton Manor!
If, like me, you arrive at the event not entirely sure when all the event's shows will be happening, all information about the event can be found on the sandwich boards located near the main stage and the Toy Shop. (Park maps are also available from various shops featuring all event information.) From this board, it was clear our first stop of the day would need to be the Trick or Treat Trail. How better to start the day than with a bucket load of sweets? The Trick or Treat Trail is an upcharge activity (£5 per bucket, annual pass discount available) and can be purchased from the sweet shop adjacent to Drayton Manor Zoo. Here you'll find a selection of different spooky tin buckets to choose from – I went for the black cat design – and receive a trail card featuring the five different treat locations. At each location, sweets can be collected and added to your bucket. The amount of sweets varied between locations, from a pre-packaged selection to six pieces to a handful, but by the end, our buckets were overflowing with sweets! Whilst each location offers the same selection of sweets (Swizzels brand) guests are welcome to choose their own from the bucket at all bar one location, meaning I was easily able to make sure my bucket contained sweets that matched my dietary needs. The stops are located all around the park but centred on the areas most popular with young families, so expect to spend a lot of time in both the zoo and Thomas Land! For the price, this was a lovely little activity and I really enjoyed traipsing around the park on a mission, as well as all of our interactions with the fabulous Drayton Manor staff as we collected our treats.
If you just wanted a few sweets for free – plus an even sweeter character interaction – be sure to check show times for Trick or Treat with Sir Topham Hat. Taking place at the yellow house just inside the main entrance to Thomas Land, this character-based activity was scheduled three times a day on our visit, and allows guests to play trick or treat on Sir Topham Hat's house! Of course, the dapper railway controller answers the door and has plenty of treats for all. Park photographers are on hand for group photos, but you're also more than welcome to grab a photo with the main man yourself too. Even as a group of adults, we had a great time with Sir Topham Hat, and came away with even more sweets!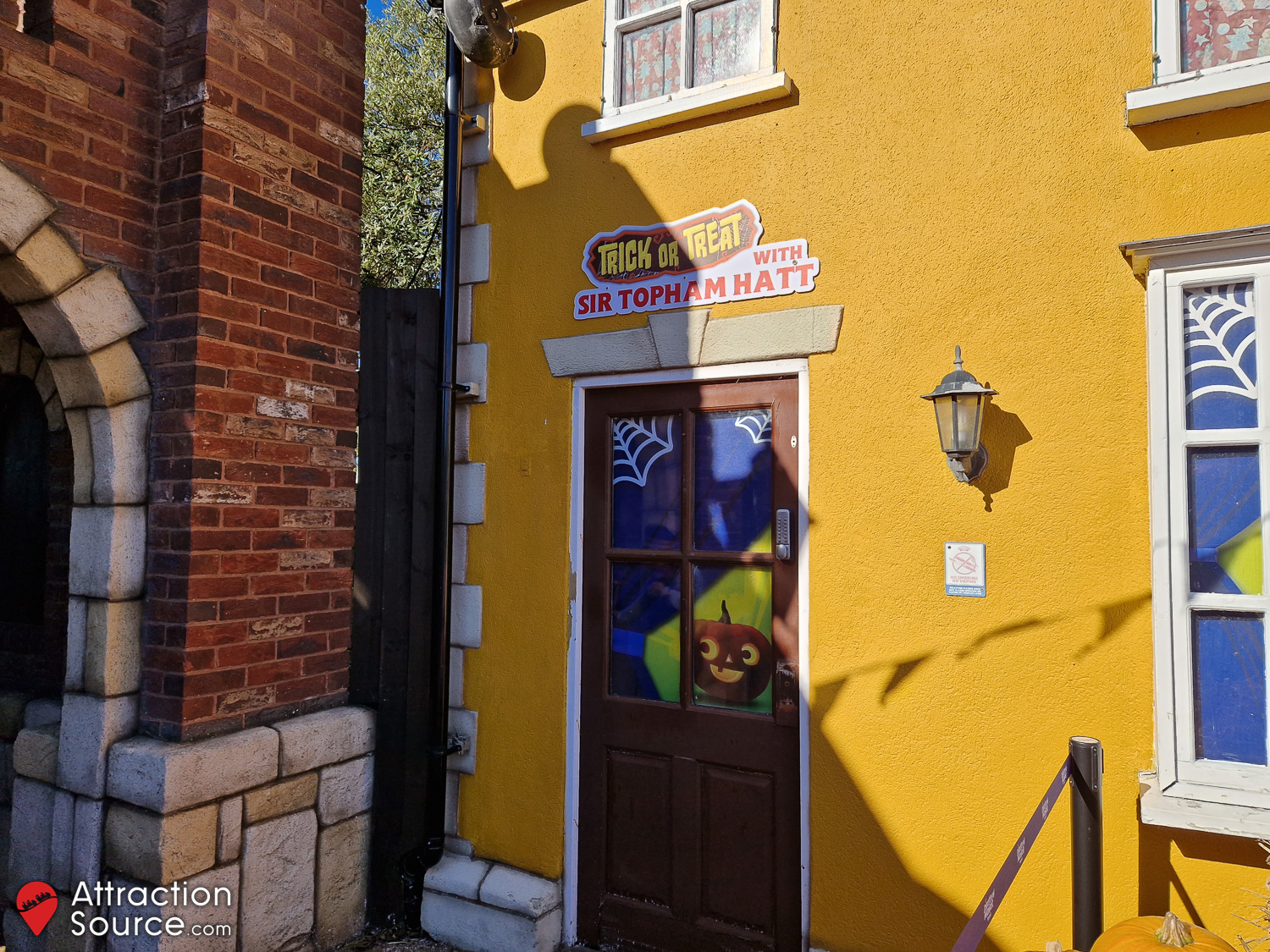 Armed with sweets, where better to head than the theatre? The 4D theatre to be precise, though during the event you'll not find any showings of the usual Thomas & Friends 4D: Bubbling Boilers. Instead, this is where you'll find Rory's Boo Bash! This 10-minute-long show features Rory throwing a spooky party, and we're all invited to join him for a dance! Whilst the show predominantly features dance-along Halloween classics (hearing Rory sing The Time Warp was pretty special), it also made fantastic use of the theatre's range of effects in order to add a few 'tricks' into proceedings. Whilst I definitely preferred the shows performed in this space at both the Christmas and Dinosaur Break Out events, this was a great time and I couldn't stop laughing throughout. Plus, if there is one thing the Drayton Manor entertainment team really are extremely good at, it's creating silly little songs that kids love to dance along to. At every season throughout the year, Rory has seemingly had a new seasonal song and range of dance moves for kids to join in with, and it always goes down a treat!
Another free activity that may just result in some treats is the Hay Bale Trail. This trail takes guests on a journey throughout the zoo, collecting letters from beautifully themed hay bales. If you manage to spell the word at the end, be sure to visit the Toy Shop where a small prize is waiting! We teamed this up with the Trick or Treat trail, collecting the hay bales on our journey to the treat stop within the zoo. This led to a lovely morning spent with the fantastic range of animals within Drayton Manor Zoo with the fishing cat and lynx in particular being very active! We were rewarded for our efforts with a sticker and yet more sweets, and of course, in getting to see the wonderful hay bales. On reaching the back of the zoo we still had some stops remaining on our Trick or Treat Trail, so how better to continue our efforts than catch the train back to Thomas Land? Our train on this visit was Percy, who was decked out in spooky decorations for the occasion!
Of course, Percy wasn't the only one looking his spooky best. The whole park is awash with pumpkins, creepy statues, bunting, and plenty of photo opportunities. My personal favourites were the large pumpkins with head holes, perfect for getting your head stuck in if you're far too large for such things but still determined to try! The central hub of the park is of course looking excellent too, with a new neon sign for The Haunted Manor already in place on the stage. Though there's no entertainment on the stage during this event, you can expect to hear on-theme music playing all day long.
Whilst I didn't spot any seasonal food offerings as we made our way around the park, I'm happy to report that Drayton Manor are certainly winning the most important of battles at this time of year: The Pumpkin Spice Latte wars. We visited Sodor Airport Coffee Shop as part of our Trick or Treat mission, but on entering there was a large advertisement for a Pumpkin Spice Latte, the photo of which displayed it being served with a small pumpkin on top. Now, any small theming detail like that makes anything an instant purchase for me, so £4.50 (£3.80 with my annual pass) later, the PSL had been ordered, simply to see if it really did come with a pumpkin on top. I'm happy to report that the photos were indeed accurate, and a tiny pumpkin was promptly balanced on top of my takeaway cup! Although perhaps not as aesthetically pleasing as being plonked on top of the whipped cream, this sure did make the eating of the pumpkin less messy! Especially as I didn't eat it myself, given that I think it was a marshmallow and probably not vegetarian. But cute all the same!
Whilst in Sodor, there was one final piece of Halloween entertainment to enjoy. On the Thomas Land stage, you can catch spooky shows all day, with the final show being a Halloween Party! Here Sir Topham Hat joins Rusty and Dusty to celebrate the season with yet more of Drayton's wonderful little dance-along songs. The younger guests around me were all very much getting into the spirit of things, and like all the shows I've ever seen on this stage, it was great fun with a fantastic, energetic cast.
Thankfully, low crowds meant we were able to wrap up our day with a few favourite rides within the park with only brief waits. As I'll most likely be unable to visit for the rest of the season, this was my final opportunity to ride Shockwave in its current stand-up form! Having been fenced off at the start of the day, it was therefore a massive relief when the trains started cycling around lunchtime. To be completely honest, I'm not massively sad to see Shockwave change. I've always just found the experience a little too uncomfortable for me, and any refresh of the ride is a great thing in my opinion. But, in the same way I always start to like my hair the morning before a haircut, my last ride really was fantastic. We waited for the front row, and boy did it pay off. Our ride was smooth as glass, forceful and I floated joyfully through the zero-g roll. Of course, there's no escaping those final brakes, but all the same, I was very grateful for this one last, wonderful ride. Goodbye, Shockwave!
Just in case you've missed it, in which case I'm extremely impressed, Drayton Manor are constructing a whole new area for 2024, the centrepiece of which will be a brand new Intamin Lift and Launch coaster. For this reason, we wrapped up our day with a selection of rides towards the back of the park, every ride, in fact, that would offer a good view over the sizable construction site. For the best panoramic views, the lift hill of Accelerator certainly delivered. We were able to see the coaster's footers stretching out across the site, and really excitingly, the old toilet block that used to be near Apocalypse has been fully encased in themed wooden paneling! For a more prolonged view, the Flying Dutchman was fantastic. It was also wonderful to ride this quirky flat ride after what feels like a very, very long closure. Finally, Jormungandr offers a real appreciation of how close this ride will be to the new roller coaster. It'll be interesting to see how the theming of the two lands is maintained in such close proximity, but I'm certainly excited to experience the end result.
Nearby, work has also begun to transform Drunken Barrels. The quirky teacups-style attraction has also been added to the 'Under Construction' zone marked out on the Halloween park maps. This ride has always been one of my favourite themed attractions in the UK, so it's certainly bittersweet to see the attraction enclosed within scaffolding. But, if the first pieces of theming currently visible are anything to go by, hopefully, the new theme will live up to the quality of its previous iteration. The addition of panels that appear to be bursting out from the side of the building shows it definitely won't just be a case of popping some wood on it at least!
Spooky Family Fun is a wonderful event for the family this Halloween. As with almost all of the park's events this year, it's really very easy to spend several hours without experiencing a single ride, such is the quality of the seasonal offering. Not to mention the number of sweets we managed to collect throughout! Though aimed towards a younger audience, the activities are certainly fun for all ages, though braver families may be best waiting until The Haunted Manor later this month, during which all Spooky Family Fun activities will also be available.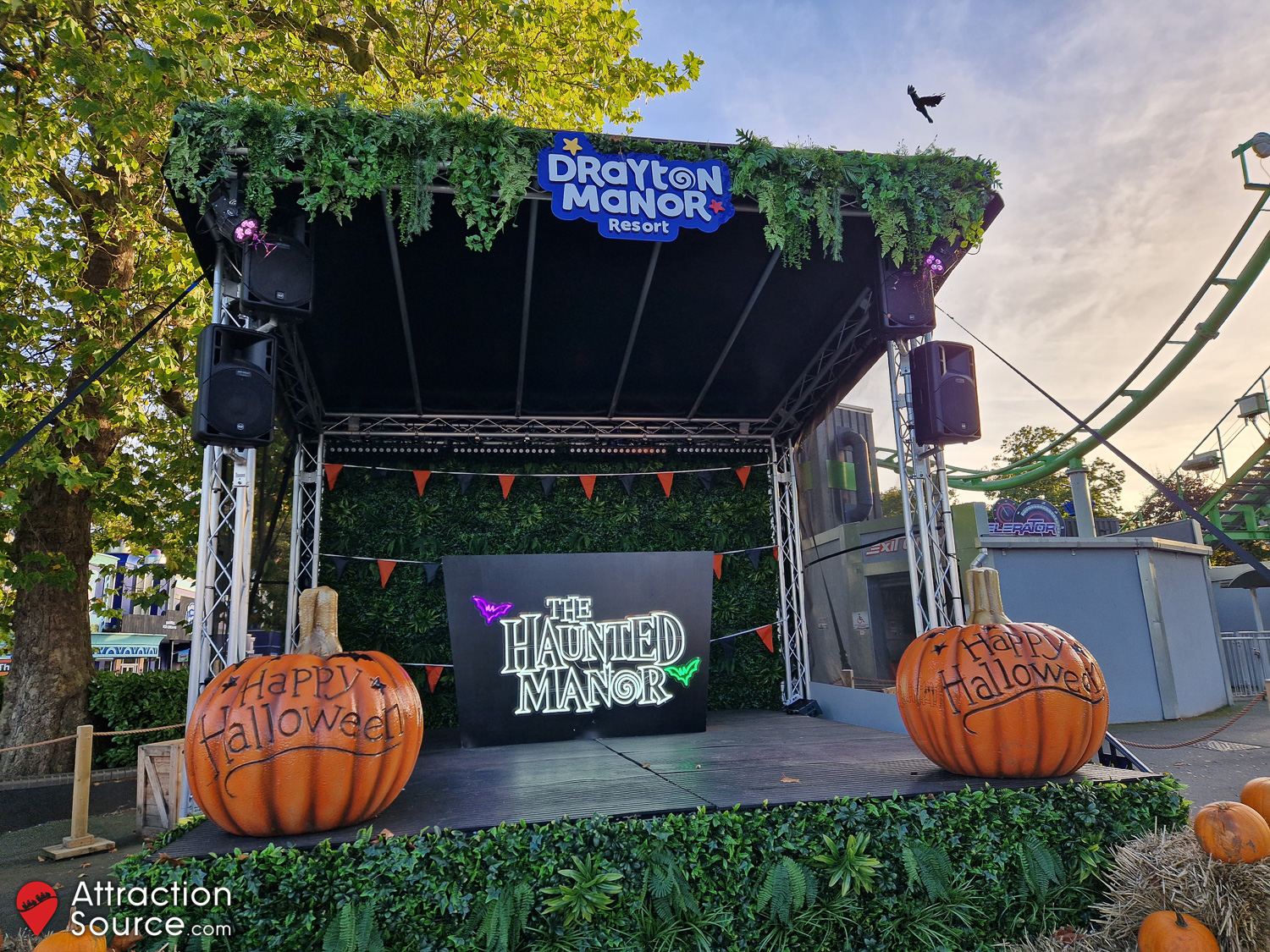 As another solid entry into what has been an incredibly action-packed year of events for the park, Halloween has made me incredibly excited to experience the final few events of the season at Drayton Manor – and who knows what construction we'll see by then? It's certainly a very exciting time for the park and for us fans! And right now, a pretty spooktacular one too!