Fright Nights returned to Thorpe Park Resort this weekend for its thirteenth year. Continuing the successful 3 year partnership with Lionsgate Films (a partnership which could potentially be extended beyond the current deal), 2014 sees the return of many of last year's most popular scare mazes, alongside brand new additions for this year, all overseen by the deranged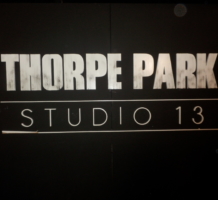 New for 2014 is Studio 13: The Motel. Located on the site of the former Asylum scare maze, Studio 13 takes guests on a tour of the set of The Director's latest production – The Motel. As you make your way around the set, you encounter his production team as they prepare you to become the star of the film, moving from sound and make up, to the set itself. Regular visitors to Fright Nights will notice the nods to many of the resort's previous scare attractions throughout the maze, including The Freezer and Asylum, something which is a nice touch and nod to the past. Studio 13 is certainly a worthy addition to the Fright Nights line up and fits in well with the other attractions across the park.
Returning from last year is Saw: Alive, Cabin in the Woods, My Bloody Valentine, and The Blair Witch Project. Cabin in the Woods has seen some small changes this year with the control room and cellar swapping places, and some tweaks made to the forest section of the maze. Blair Witch Project has also been improved, with more actors throughout the walkthrough adding a greater sense of anticipation as you make your way through. My Bloody Valentine has seen some small tweaks with the removal of the curtain in the first room, whilst Saw: Alive remains largely unchanged from last year.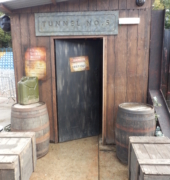 A new group of roaming characters patrol the park looking for passers-by to terrorise. This year the characters have been created especially for the park adding to the overall experience alongside the general audio changes and spectacular lighting of the resort's famous rides.
Also available is 'The Extra Cut', an overnight scare experience which sees guests given The Director's ultimate backstage tour, encountering terrors and scares until the early hours. On selected Friday's during Fright Nights visitors can also book 'Scream Add-Ons' from a Bedtime Gory Teller, a Night Terror, or a Bedroom Monster to provide a memorably frightful stay in the Shark Hotel.
Overall, we at SouthParks are incredibly impressed with this year's Fright Nights, and think that Thorpe Park Resort have created a truly terrifying event with the perfect balance of thrills and scares.
Are you visiting Fright Nights this year? Be sure to share your opinions over on the Attraction Source Forum.