For over 29 years Safari Skyway took guests on a journey above the rooftops of Chessington World of Adventures, offering a unique perspective of some of the Resort's many residents, from penguins and sea lions to monkeys and tigers. All good things must come to an end and Safari Skyway made its last journey in July 2015.
Opening in 1986, the monorail style ride was one of the original rides to open at Chessington World of Adventures Resort, one year before the main theme park opened alongside the zoo for the first time. It's addition was part of a plan first devised in 1984 by then Tussaud's Director of Development, Ray Barratt, who commissioned John Wardley (who would later become famous for designing Nemesis, Air, and Nemesis Inferno), to help boost the flagging attendance numbers at Chessington Zoo. As it opened one year prior to the theme park the ride offered an interesting view of the construction of the initial areas of the theme park for the ride's first year of operation. Once the main theme park opened on 7th June 1987 Safari Skyway was joined by the Runaway Mine Train, Dragon River (a log flume), The 5th Dimension, and Chessington Railroad, as well as a small number of other supporting rides.
Guests boarded Safari Skyway via a dedicated station located towards the rear of Market Square. One of the factors which made the ride so popular was that the only restriction was that riders under 1.1 metres in height had to be accompanied by someone over 16, making the ride perfect for all guests who visited the Resort. Once on board the ride vehicles, guests were taken on an 8 minute journey exiting the station towards the Mexicana area of the theme park. The ride passed by the Children's Zoo, before making its way past Amazu and Penguin Bay and heading behind the Sealife Centre. After this it then passed near the Lodge Gate, before heading towards the Trail of the Kings where it continued nearby the gorillas, lions and tigers. Finally the train took guests near to Sealion Bay before completing its journey by heading back into the station.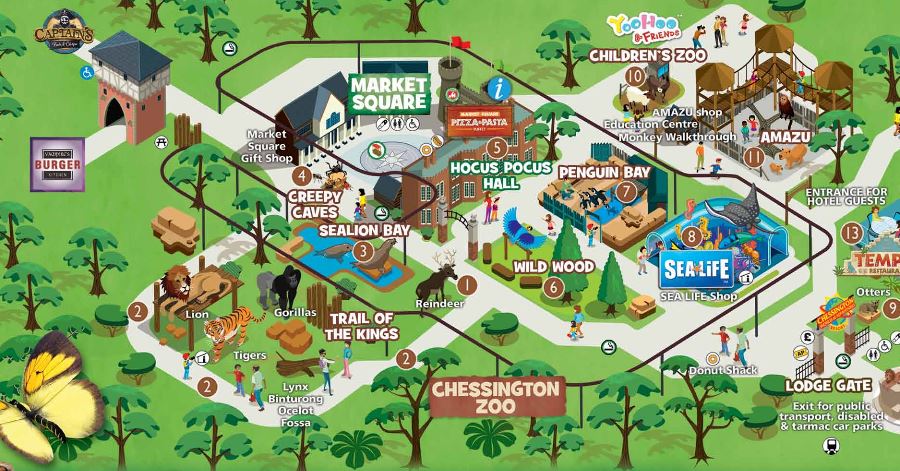 In recent years Safari Skyway has experienced a number of problems with the ride being forced to close on several occasions due to maintenance issues. The ride took its final passengers in July 2015 before Chessington World of Adventures Resort confirmed it was to remain closed for the remainder of the 2015 season. After much speculation, it was finally announced in January 2016 that Safari Skyway was to be retired, marking the end of an era at the Resort.
With the retirement of the ride, the Resort began the process of removing the track from the park, a process which would change the views and skyline of the theme park and zoo for good. As the closed season progressed the track gradually disappeared with the only track now remaining being that situated above Trail of the Kings, although in some areas of the theme park you can still see signs of where the supports for the track used to stand. The station still remains, although now the station track leads