Follow Chessington's journey from zoological gardens to today's World of Adventures, dating back almost a century!
During 1930, entrepreneur, Reginald S Goddard, a flight lieutenant in the Great War, decided to embark on a new venture in his life. He was the managing director of his family's Battersea-based slate and slab firm, specialising in in producing slate billiard tables, but also worked for some years in insurance after leaving school at Ongar, Essex.
R S Goddard opened up a chain of billiard halls around London and one was apparently leased to a pet shop which stocked out of the ordinary species that attracted much public interest. The knowledge that there could be a good living to be made by exhibiting animals stemmed from this business deal with the pet store. Mr Goddard thought about starting up a zoo, and on a drive from Kingston to Leatherhead, spotted land for sale in Chessington. The zoo's history is now summarized in the following brief chronology.
1931: Surrey Zoological Gardens opened in July.
1936: Advert tells of animals and their names – Joey the monkey in a circus on a tightrope, Teddy bear, lions, cubs, elephants, tigers, leopards, hyenas, bears tea party and many more. The zoo had over 200,000 visitors during the season.
1939: Government restrictions at start of war lead to the temporary closure of zoo, as part of a programme preventing large crowds forming at entertainment venues during wartime.
1944: During the war years, three people were killed, and 21 bombs fell on the grounds. A doodlebug exploded in a tree above Jack, the polar bears cage. He was thrust against the side of the cage by the blast and lay silent for days, but amazingly recovered. A penguin enclosure was destroyed, and an ostrich's leg was severed and flung 30ft; the animal was sadly put down. A monkey cage was also blown apart, allowing the animals to escape before recapture shortly after.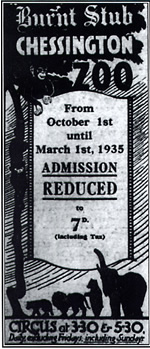 1946: R S Goddard dies on Christmas Day. Chessington Zoological Garden becomes a company. The 1,500 animals consume daily 30 tons of meat, 60 boxes of bananas, 40 boxes of oranges, and require 20 tons of straw for bedding.
1953: The roaring of lions could be heard at night as far away as Clayton Road, Hook. Increasing traffic in the later years muffled their cries.
1962-3: Giraffes join zoo collection this year. A Chessington hybrid caused a sensation when a Watussi bull and an American bison cow bred, producing two cows. It was believed to have been a world first. By now, a large grassy area fronting the Leatherhead Road contained the lions and tigers. A zebra, born in the notoriously foggy December of 1962, was named Smog. By now a new attraction was a common hippopotamus, Humphrey.
1967-70: Ape house opened. Deputy director Eddie Orbell quits after many years to run a wildlife park in Scotland. The zoo now has 335 mammals in 101 species; 800 birds in 103 species; 51 reptiles and amphibians and 200 fish in 21 and 70 species respectively.
1972: Death of Hans Brick at the age of 72 on 22nd August in Middlesex. He had built the circus at Chessington. Stock is 406 mammals in 103 species; 568 birds in 136 species; 28 reptiles and amphibians in 19 and 58 species respectively. Construction of a Bird garden is now in progress.
1978: Pearson's, a subsidiary of the Tussauds Group, buys the zoo. First manager is Peter Morgan.
1980: Head Keeper is Ron 'Ginger' Eaton, replaced later by Chris Anscombe, previously head primate keeper. Nigel Martin, an ex-Royal Marines officer takes over as manager, assisted by Robin Dunham and David Attwood, who both leave the zoo's employment by 1991.
1987: Pearson's expand the zoo into a theme park, and open Chessington World of Adventures.
1990: This year the next phase of major development was introduced – Vampire; the first suspended coaster in Europe, and Bubbleworks; a tour around Professor Burp's fizzy drinks factory.
1996: Dennis Vrettos and David Herbert, who started working at the zoo in 1988, were among the keepers still in employment.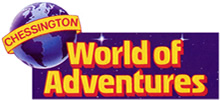 1999: 'Samurai' opens, a spinning ride which throws riders upside-down in three different directions. Gone are the zoo's elephants, giraffes, hippopotamus, orangutans, llamas, bison, deer, pelicans and the large vulture type bald eagle so often seen from the Leatherhead Road.
2000 onwards: Since Tussauds' acquisition of Thorpe Park, Chessington's target market was re-positioned and now continues to be one of the UK's best family parks under the ownership of Merlin Entertainments.