Deeper. Darker. More intense. The demon has risen as Derren Brown's Ghost Train has been re-vamped for 2017. A 21st Century re-invention of the classic ghost train ride which will make you question where perception ends and reality begin, Derren Brown's Ghost Train: Rise of the Demon promises to take guests on a journey into the unknown combining both live action and virtual reality. Are you brave enough to face the demon as it rises from below?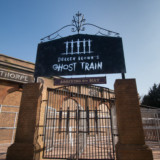 Construction
A mysterious new development commenced in 2015, with the construction of a new dark ride.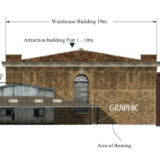 Plans
An application submitted in October 2014 revealed Thorpe Park were developing a dark ride for 2016.
Located at the heart of the Island in a disused Victorian warehouse, Derren Brown's Ghost Train takes guests on a multi-sensory journey which will de-rail their minds and leave them questioning where their perception ends and reality begins. Masterminded by psychological magician Derren Brown, Thorpe Parks Resort's latest attraction has been over three years in development and involved a team of over 1000 specialists to make Derren Brown's vision a reality using 'cutting edge technology' including HTC Vive Virtual Reality systems, and filming using Nokia Ozo cameras.
As guests approach the attraction they pass through a feature sign leading to a partially covered queue area. Here guests will enter the themed queue line which is split into main, fastrack and disabled queues. The queue line features two photo points, one of which is themed as an 'infection check point' giving the first hint as to the storyline of the attraction. Once guests reach the front of the queue they are batched into one of two holding areas. Upon entering the main building guests are presented with a short pre-show featuring a projection of Derren Brown himself, before being directed towards the boarding area. On entering the main warehouse section of the attraction building guest are greeted by a seven tonne Victorian train carriage suspended in mid-air by Iron Chains giving the first indication of the journey which lies ahead. Guests then proceed to the ride vehicle over the first of two metal bridges, with each train capable of holding up to 58 guests. The ride experience features a mix of live action sequences, grand-scale illusions, 4D special effects, and virtual reality technology with guests playing a major part in the action to fully immerse them in the experience as they discover the consequences of Sub Core Energy's programme of drilling into the Earth's core. No two journeys on board Derren Brown's Ghost Train are the same with a range of journeys featuring a range of different characters and, as of the 2017 season, an additional surprise at the end of their journey.
Duration: 10-15 minutes
Capacity: 58 Seats per train
Ride Type: Multi-Sensory Ghost Train featuring a mix of physical transit, live action, grand illusion, 4D and virtual reality.
Creator: Derren Brown and Merlin Magic Making with over 1000 specialists
Ride Area: Purpose built warehouse occupying 2306 square metres
Minimum Height: 1.4 metres
Age Recommendation: 13+