EGGSPLORERS! is a brand-new event for the 2023 season at Chessington World of Adventures Resort. Promising seasonal entertainment, an Easter animal trail and the first-ever appearance of the one and only Easter Bunny at the resort throughout the Easter school holidays, it's an event that I, Claire, could not resist! So come along with me as I check out everything this super sweet event has to offer.
This was my first visit to Chessington since June 2022. Between other plans and sickness, I just hadn't managed to make it out to the park much last year, which, of course, meant that as I pulled into the car park on April 2nd – the second day of EGGSPLORERS! – there was one thing alone that caught my eye. Just the small matter of a towering jaguar sculpture and the stunning green swirl of B&M track encircling it. I was lucky enough to be directed to Zebra car park, directly behind World of Jumanji, and closest to the park entrance. From here I could sit in my car and gaze, awestruck, at the incredible new addition to the Chessington skyline. Photos really do not do this area justice, and with plenty of plants still sitting in their pots, waiting to find a home, who knows what it could look like in just over a month's time! But that's next month's excitement, for now we've got some eggs to find!
On entering the park, I was handed my EGGSPLORERS! map, which points out the location of all the day's events – but not the times, you'll need the Chessington app for that – as well as doubling up as the animal trail map. Keep this safe, as you'll need it to redeem your reward later in the day! Notably, the map also includes a greyed-out Scorpion Express, currently scheduled to return 'mid-April', around the time the event is due to end, as well as the eye-catching inclusion of World of Jumanji and its 15th May opening date.
As a soft-drink fiend, I had one thing I had to do before we could get our day started: purchase my Chessington World of Adventures Freestyle cup! New for this year, the resort has joined the rest of the Merlin theme parks in offering Coca-Cola Freestyle. Cups are available from various retail locations throughout the park. I purchased mine from Explorer Supplies, right next to Explorer Entrance, meaning I was ready to start sipping as soon as I was in the park. The initial purchase price is £15 for the cup and a full-day of refills, with re-activations costing £8. When I purchased my cup, I was informed that Merlin Annual Pass discount was not accepted on the initial cup, but would be accepted on re-activations. I look forward to putting this to the test very soon! Five refill locations are dotted around the park, with each housing two new-generation Freestyle machines. These all featured the usual line-up of drinks available across the parks, with the only notable inclusion being 'What the Fanta?', a mystery flavour. (Spoiler alert: my guess is candy floss!)
Having checked the app for showtimes, it looked like our first show of the day would be the EGGSPLORERS! Parade. Running three times a day (11:00, 13:30 and 16:00 on our visit), this parade makes its way around the centre of the park, travelling between Lodge Entrance and Adventure Point via the Mini Stage and Mexicana. I would highly recommend being in Adventure Point for the listed showtimes as this is where you'll catch what is undoubtedly the best part of the parade – a show stop! Here the large parade cast, wearing gorgeous seasonal costumes, performs an energetic dance routine led by the Easter Bunny – who else? There are bubbles, flags, and a finale featuring an explosion of paper streamers! What else could you want? Whilst the show stop is the highlight of the parade, we caught the show in motion around the park throughout the day and I loved how much it brought this area of the park to life!
With our first bit of seasonal entertainment ticked off, it was time for a quick – hopefully themed – snack, so we headed down to The Coffee Hut. Located next door to the Mane Stage, The Coffee Hut is usually a good spot for a seasonal cupcake and a coffee, and we were not disappointed. Here we found a range of Spring-themed cupcakes for sale (£2.95 each), with a honeycomb, flowerpot, or rainbow design to choose from. For cake lovers who aren't so keen on frosting there was also what appeared to be a cow design, on a frosting-less cake! We picked up one each of the frosting-laden treats and settled down to try them all. Whilst all are cute, tasty and very, very sweet, the rainbow design was a clear winner. Of all three cakes, this was the only one with a surprise centre – the middle was packed full of smarties! This might be why this was the hardest cake to find, with just a few of these guys remaining tucked behind a sea of flowerpots. We also spotted these cakes available at both Smokehouse Grill and Dragons Lair Café throughout the day – it's great to see a seasonal offering available at so many locations! These may be better options if you're in a hurry, as the only downside of our experience was the time it took to obtain both them and a coffee – approximately half an hour!
Having filled up on sugary cakes, who better to meet than the sweetest character of them all? I am of course talking about the Easter Bunny! The bunny of the season has a dedicated meeting spot located next to the Animal Antics lawn, around the corner from Sea Life. This location has a lovely backdrop filled with carrots and benched set-up that allows families to sit in front of the bunny for a photo. Of course, that doesn't mean you can't get up close and personal! The bunny's hosts were fantastic with younger guests, even letting them into a secret – the bunny has a tickly tummy! A secret that was very quickly and enthusiastically exploited by the giggling guests. They were equally as great with us older visitors, offering to take a range of different photos for us! This was a really charming addition to the day, and with a quick-moving, well-managed line we were in and out in no time.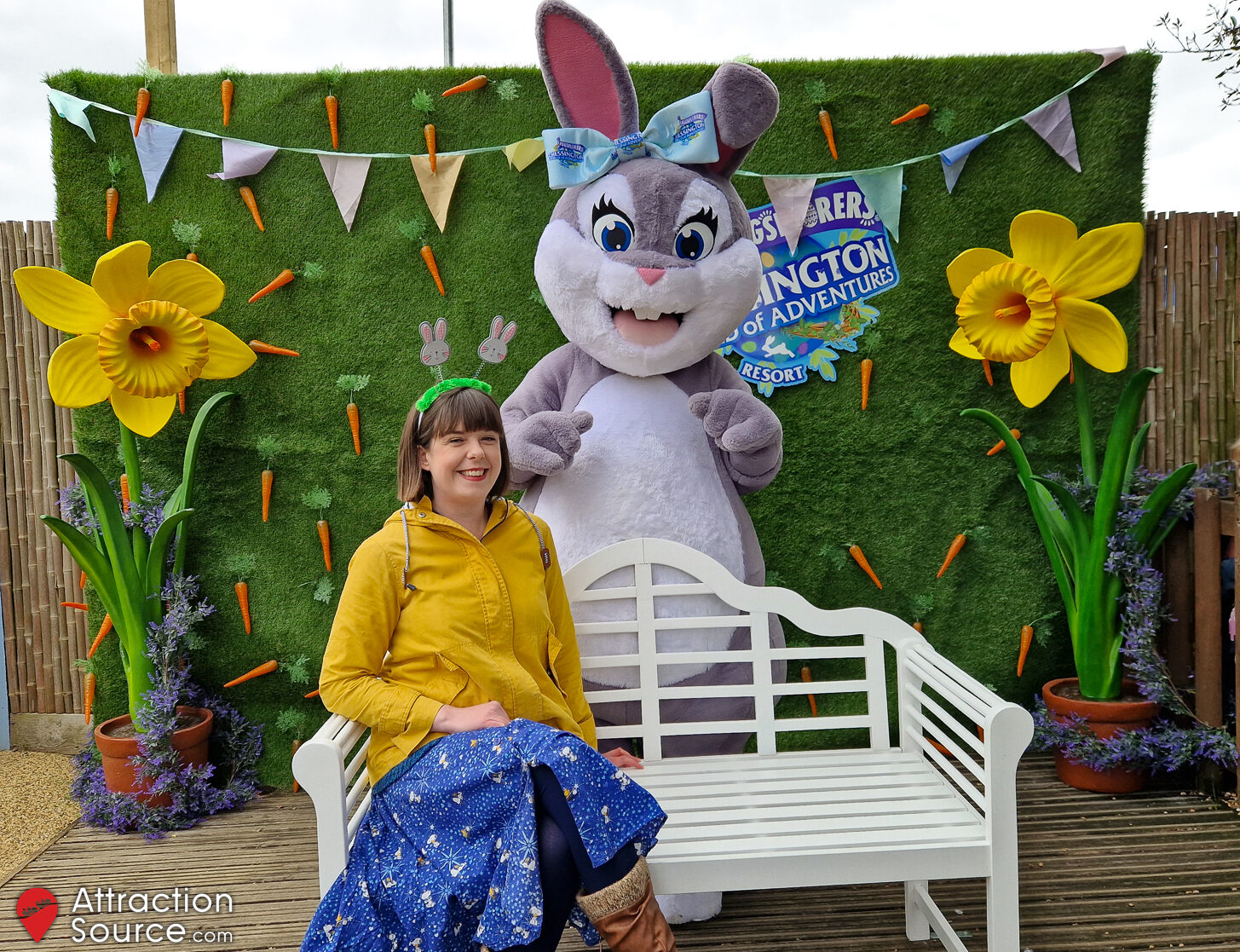 Nearby, on the Animal Antics stage, a new show was just about to start! Sadly, we missed the first of the new range of Animal Antics shows, the 11:30 Owl Training Demonstration, but the Ferret Enrichment Session was just being set up, so we grabbed a bench and waited for the antics to begin! The show features three of the park's ferrets racing against each other, through transparent tubes, to the opposite end where a tasty snack awaits them. At least, that's the idea. This was a strong contender for the most chaotic show I've seen at a theme park, and I loved every single second. These ferrets caused chaos. Absolute chaos. Running up and down the tubes, sticking their heads out of the top of the crates, and occasionally just flat-out refusing to start the race. These guys did exactly what they wanted and it was the most fun I had all day. It goes without saying that for me, a day at Chessington will no longer be complete without stopping by the Ferret Enrichment Session! Later in the day, we also caught the Skunk Training Demonstration which featured one very adorable skunk following its trainer around the stage. Whilst this didn't have nearly the same level of chaos, it was an adorable show and featured some really interesting information about skunks! I've always been a fan of the park's Animal Antics show, so for me, it's such a joy to see them expand the offering on that stage with cute critter antics running throughout the day. I can't wait to return and catch the owl show!
But enough sitting around, we had a trail to complete! The animal trail takes guests all around the resort's animal offerings, with eggs located in places that ride-focused guests might not always think to visit, such as the Wanyama lookout and the Trail of the Kings. The park have gone all out on the trail markers, with gigantic decorated eggs to be found in each location. Honestly, I just expected a small sign! This really was a great way to tie in the resort's fantastic zoo offering into our day, as we found ourselves in every corner of the park, seeing some incredible animals along the way. We even stumbled across the raccoon and skunk talk – a personal highlight!
At each location, adjacent to the gigantic egg, there is a QR code which loads a PDF when scanned. This PDF contains a single letter, to be recorded on the trail map. (If you lose the map handed to you at the park entrance, you can collect more from the themed cart opposite Room on the Broom!) At the end of the trail, guests can unjumble the letters to reveal the secret word. Take your trail map down to the same cart by Room on the Broom, and you may even be rewarded with a tasty treat – we received a Dairy Milk Buttons Easter egg! Do note that the trail map states treats are only for children.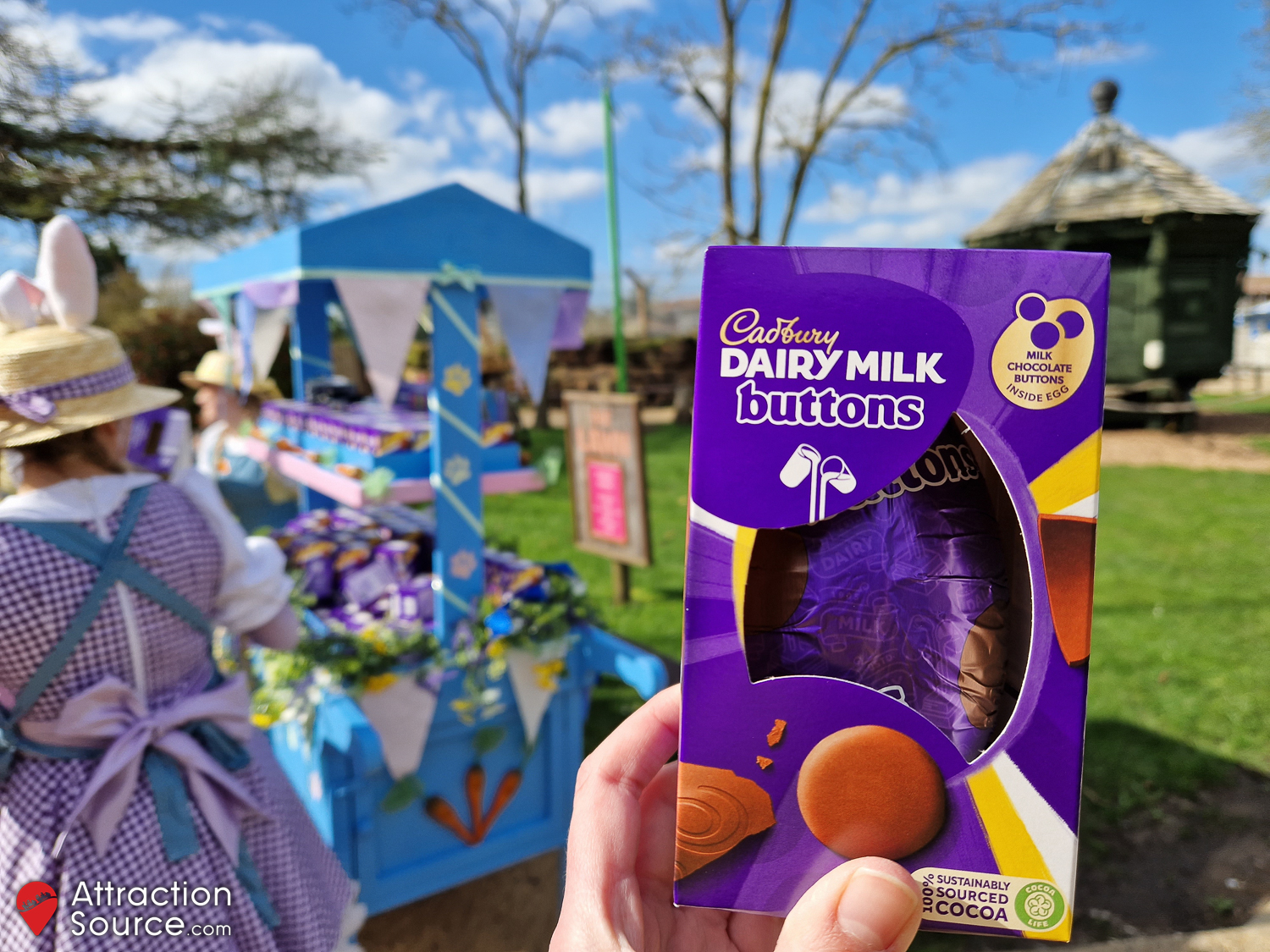 If you're looking for even more EGGSPLORERS! fun, check the app for 'EGGSPLORERS! Easter games', when the entertainment team host a whole range of games and activities for guests to enjoy in Adventure Point. When we arrived, an excited group of young guests were getting ready for an egg-and-spoon race! A course had been mapped out with cones, and even featured a themed finishing ribbon. Throughout the day we also passed by other activity sessions with the team, including what appeared to be a hula hoop game.
It's a mark of the power of seasonal events that we didn't even begin to think about the park's permanent attractions until late afternoon. With just a few hours of the park day remaining, it was definitely time to get some rides in. Vampire was, sadly, out of the question. With what is arguably the park's signature attraction continuing to only run with one train, queues were every bit as unmanageable as they had been throughout the 2022 season. During our day, the ride never posted below 90 minutes and, if social media is to be believed, actual wait times were often much higher than those posted. It's very sad to see such a beloved attraction become so unobtainable, and we can only hope things improve as the season continues. Instead, we stayed in Wild Woods for a ride on The Gruffalo River Ride Adventure. I adore this ride. The station alone is arguably one of the best we have, it's just so charming! The ride itself was in pretty good condition, with the water fountains all running. Sadly, the smoke screen finale was absent but otherwise an excellent ride through Julia Donaldson's beloved story! Staying on theme, we headed over to a walk-on Room on the Broom – A Magical Journey. This is another attraction I just find completely and utterly charming. We got lucky with a small group who marched off quickly, leaving us to make our way through alone, interacting with each story element. We almost made it to the end before the next group caught up! If you can get a run like this, where you can fully immerse yourself in the story, I defy you to leave without feeling warm and fuzzy!
Finally, we decided to wrap up the day with some thrills. First up: Blue Barnacle. It's been a while since I last rode this wonderfully themed pirate ship, and I'd forgotten the audio during the ride cycle, which made for a really enjoyable experience! Over at Tomb Blaster, as it has been for some time now, this ride was a bit of a mixed bag. In some sections, the audio seemed to be performing better than it had been last season and I certainly noticed far more effects than on my last ride, but then by the time we reached the final few scenes, it sounded as if the music were coming out of a bargain bin Bluetooth speaker, it was so quiet and tinny. When operating at its best, Tomb Blaster is up there with the very best attractions in the country. Featuring sets on a scale very rarely seen in the UK, this is a fantastic dark ride. It just needs a little love and care.
Our final ride was the wonderful Dragon's Fury. Posting a 70 minute wait 30 minutes before park close, the line was only back as far as the mid-queue snack hut so we took a gamble, and just 25 minutes later found ourselves climbing aboard this Chessington staple. I couldn't think of a better way to end the day than spinning around the park in the glorious sunshine. The ride itself was looking great too after a recent repaint across its supports, hopefully the track will follow in due course!
I left Chessington about 15 minutes after park close, having ridden just four rides and experienced one walk-through, but you know what? I was totally satisfied. Sure, this wasn't completely due to the seasonal event. We'd also taken time to enjoy the Animal Antics shows after all, but a large part of our day had been taken up enjoying everything EGGSPLORERS! has to offer. There's no escaping the fact that Chessington is a park that gains long wait times at peak times, even more so recently with operational issues plaguing many of the park's rollercoasters. But with events like this dispersing the crowd a little more around the park, the whole day becomes so much more pleasant – even in the school holidays! The event itself is also very charming, with adorable decorations, free chocolate and an impressively large cast of entertainers bringing the park to life, in beautiful pastel costumes. An eggcellent treat this Easter!
With the event running through to Sunday 16th April, are you planning to visit EGGSPLORERS! at Chessington? Let us know via our social media channels.