Hi, new member - I've recently written this for my website and thought I'd give it a wider audience
10.
The Black Hole
What lurked at the end of the dark corridors of the Black Hole? Well, if you were pregnant or 3 foot 2 you weren't gonna get past the 16 year old kid wearing a silver space suit with
'Security'
emblazoned across it. The anticipation as you entered the darkened corridors which were lifted straight from a Space 1999 set was immense. Unfortunately the bubble was soon burst when your mates arse was crushing your goolies and you were strapped into what was basically a glorified 6 seater shopping trolley using a seatbelt straight out of an Austin Maestro. You gobbed on the big Spaceman as you were taken to the top of the ride and made sure you had a bored expression for the photograph half way around – it was S**t.
9.
The Rapids
Sit in a circle around a metal table and chat with your mates, I'm sorry but if there's no alcohol involved I don't see the point.
8.
The Thunder Looper
One loop forwards, one loop backwards on a straight track and you weren't allowed to take any food on it unlike the scouts on
'Jim'll Fix' it
who had done the dirty deed more than ten years earlier on Blackpool Pleasure Beach. The Thunderlooper was an afterthought and they'd have done better business if they'd have chucked up some Face Painting Stalls and a Penalty Shoot Out Booth.
7.
Nemesis
Nemesis
- A righteous infliction of retribution manifested by an appropriate agent. Personified in this case by a Fairground Ride. It was never gonna live up to its' billing really.
6.
The Enterprise
Another Bollock Crusher. Two of you in sat in a small cage that whizzed around and around merry go round style until a central arm lifted to 90 degrees and you were spinning up 'n down vertically. This ride generated more complaints than any other at
'The Towers'
most of them from Trekkie's who questioned why a hunk of metal that looked more like a Romulan Star Freighter was named after Captain Kirk's penis extension.
5.
Oblivion
All your money fell out of your pockets during a 30 second ride starting with entry into a large dark hole – They should've called it
'Prostitute'
.
4.
The Log Flume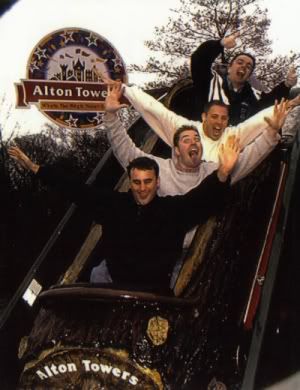 'Keep Your Hands Inside the Ride at ALL Times'
you were warned – Yeah right, as soon as the log was free of the revolving turntable you drenched your mates and stuck the
'V's
up to the people on the wooden footbridge above. The Flume provided the best photo opportunity in the whole Park, although you were obliged to make a fool of yourselves at the highest point of the ride in full view of everyone queuing up purely for the benefit of a snapshot that you'd pay 5 quid for once you disembarked. One question? Why were plastic dinosaurs located in the middle of a wooded area in Staffordshire? Only one person was glad of them and that was the YTS kid who's responsibility it was to bark
'dinosounds'
through the speakers that were hung on trees throughout the route.
3.
The Pirate Ship
How the hell a 5 tonne boat could be propelled to such extravagant heights by a remoulded tyre off a Ford Anglia is anyone's guess. It happened though and to see your fear mirrored by the middle aged women sat opposite you as the Ship reached its' optimum height and you attempted to go 'no handed' made for a spellbinding ride.
2.
The Corkscrew
Alton Towers' main draw in the 80's, no other park came close to thrashing the yellow tracked meanie when it came to white knuckle anarchy. It had such popularity that the rollercoaster even had top billing on crappy kids gameshow
'Hold Tight'
. The 'screw pissed on Drayton Manor Park and Zoo's Mini Pirate Ship and Carousel and as that was about all the competition could come up with at the time we were quite happy to queue up for 2 hours for the experience.
1.
Toboggans
'The Widowmaker'
as Towers' Staff christened it. Take a seat on a tray with wheels (widely considered to be 'Kryptonics' by the skateboarding community) and let gravity do its' thing as your backside sits 2 inches above a concrete track that had, at its' tamest a 1 in 5 decline. The 'brake' was a small pole between your legs any attempt to use it was a lesson in futility. The addition of hay bales and traction control in 1986 did little to lesson the hazardous nature of the treacherous track which claimed 5 lives and had 500 lbs of skin scraped off it during its' short career as an 'attraction'. Fortunately Health and Safety Officials closed it down after Paul 'Fishy' Fisher from Grimsby was treated for 3rd degree burns when he turned into a fireball due to a build up of friction whilst he was attempting to brake using his Dunlop Green Flash on the second to last corner.